35 Amateur Radio Operators Support the 34th California International Marathon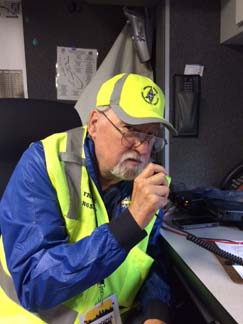 Frank, N6SNO, working net control at his 29th CIM event
December 4, 2016.
The 34th California International Marathon (CIM), hosted by the Sacramento Running Association, drew over 9000 runners for this 26.2-mile race from Folsom to downtown Sacramento and an additional 3,500 runners for the Relay Challenge. The CIM is a recognized qualifying race for the Boston Marathon.
Thirty five amateur radio operators from multiple counties in Northern California worked together to support communications for this event.
The Amateur radio communications teams were directed by Sacramento Valley Section Emergency Coordinator Frank Reshke N6SNO who was working his 29th CIM run. The ham radio operators provided communications between the seventeen Aid Stations, three Relay Locations, and SAG buses. They passed lead runner information as well as coordinating the tracking of runners who dropped out and needed rides to the finish line, and passing Aid Station requests for needed materials, and safety concerns.
Ham operators also used fire department 800 mHz trunked radios to communicate with Command. The 800 mHz radios were used to pass medical information from Aid Stations to the fire department personnel in the Mobile Incident Command Center communications trailer for dispatch of medical assistance.
Thank you to all the radio operators for volunteering their time to make this event a great success.
---
Return to the Sacvalleyares.org