Welcome to the Sacramento Valley Regional ARES
ARRL Sacramento Valley Section site

and on Facebook

Twitter

At the January 9 Sacramento County ARES Training class at the Metro Fire District Station 106, prior Sac County EC John Staples, KI6ZWW, received a gift certificate and a plaque "in appreciation for all of his time and hard work spent to improve Sacramento County ARES and RACES during 2012-2015."
Thank you John!
1/10/2016
For the year 2015, Sacramento Valley Section ARES reported 20,129 volunteer hours!
Excellent job and well done. Thank you for all of your hard work and support of ARES! 1/6/2016
Yolo County ARES VE team developed a "Volunteer Examiner Session checklist"
used in each of our FCC license test sessions to make sure all the forms are completed correctly.
We put a copy with each candidate's paper work and the VEs check the forms as the testing progresses. At the end, a quick review is all that is needed. 12/8/2015
Plumas County EC Larry Trotter, KI6YUK, has shared the After Action Report for the Plumas County Pandemic Flu Exercise.
11/22/2015
National Weather Service - Enhanced Data Display
http://preview.weather.gov/edd
This is a nice tool to monitor the weather. Get quick access to deterministic and probabilistic forecasts. Multiple selective layers on map let you focus on the information you are looking for. 11/10/2015
Amateur radio operators are needed for the California International Marathon
Amateur radio operators are needed for the December 6, California International Marathon.
http://runcim.org
. The race begins in Folsom and ends at the State Capitol in Sacramento. If you can help out contact:
Frank
n6sno@arrl.net
11/10/2015
Are you Interested in Amateur Radio Mail? Check AG6QO's presentation.
http://ag6qo.com/RadioMail.pdf
10/26/2015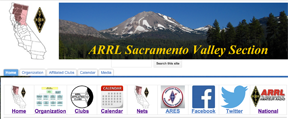 Sacramento Valley Section Manager Carol KP4MD has designed a prototype for a new Sacramento Valley Section News site.
http://arrlsv.n6na.org/
Email comments and suggestions to Carol
KP4MD@arrl.org
10/26/2015
Space Weather News for Oct. 23, 2015
THE SOLAR FLARE THAT WOULDN'T END: Typical solar flares are finished in a matter of minutes. On Oct. 22nd, a solar flare in the magnetic canopy of sunspot AR2434 lasted for more than 3 hours. The slow explosion produced a CME, which is expected to deliver a glancing blow to Earth's magnetic field on Oct. 25th. Visit
http://spaceweather.com
for more information. 10/23/2015
Keep up to date with ARRL Sacramento Valley news and links to many of the Radio Clubs in theARRL Sacramento Valley Section.
This link to resources is always available from the menu item SV ARES. 10/4/2015
Dr Carol Milazzo, KP4MD appointed new Sacramento Valley Section Manager
Dr Carol Milazzo, KP4MD has been appointed as the new Sacramento Valley Section Manager as of October 1, 2015. Carol is taking over for Ron Murdock, W6KJ, who decided not to run for another term of office after serving since July of 2007.
Best of luck and thank you Ron for all of your hard work. 9/30/2015
Great ShakeOut Earthquake Drill October 15, 2015 @10:15AM
Millions of people worldwide will practice how to Drop, Cover, and Hold On at 10:15 a.m. on October 15* during Great ShakeOut Earthquake Drills, which began in California in 2008.
Participating is a great way for your ARES group, family or organization to be prepared to survive and recover quickly from big earthquakes– wherever you live, work, or travel.
http://shakeout.org/california/ 9/30/2015
Sacramento Valley Section elect Carol Milazzo KP4MD has created a
Facebook page
for the Sacramento Valley Section. Carol will take over for Ron Murdock W6KJ as Sacramento Valley Section manager on October 1, 2015.
https://www.facebook.com/ARRLSacramentoValley
9/21/2015
The Low-Loss PWRgate low cost alternative to the
Power Werx PWRgate PG40S
. The Low-Loss PWRgate by
FlintHills Radio Inc
, is Backup Power Switching and Charging System the Simple, Safe, and Reliable, easy to add backup battery power to your home station or go-kit. 25 Amp total, 3 power outlet ports, ARES standard Anderson Pole Connectors.
A PWRgate is a simple standby backup power system, it will allow communications equipment to remain operative on battery power during AC power blackouts. Power supplies and batteries can be swapped out while the equipment remains on with no glitches.
NOTE: Several ARES members in Sacramento and Amador counties have had very good success with Low-Loss PWRgate. 9/20/2015
Carol Milazzo KP4MD has started a twitter feed for the Sacramento Valley Section. Carol will take over for Ron Murdock W6KJ as Sacramento Valley Section manager.
Welcome Carol!
Among other treats in the twitter feed
Carol has posted photos from Sept. 18-20, 2015 Section Manager Workshop ARRL Headquarters in Newington CT
Check the twitter feed often to keep up with news in the Sacramento Valley Section. 9/20/2015
ARRL has posted an article onARES/RACES response to the wildfires in Northern California. It has information about the Amador County ARES with support from Yolo and Sacramento ARES. 9/14/2015
Cal Fire Twitter web site
https://twitter.com/CAL_FIRE
Twitter site for CAL FIRE PIO Daniel Berlant
https://twitter.com/CALFIRE_PIO
Cal Fire Web site for Butte Fire
http://cdfdata.fire.ca.gov/incidents/incidents_details_info?incident_id=1221
Butte Fire information from Yubanet.com
http://yubanet.com/2015Local/ButteAEU.php
Wildfire Today web site has good information about the Butte Fire as well.
http://wildfiretoday.com
KVGC Radio is streaming information about the Butte Fire via the internet.
http://www.kvgcradio.com
The Amador ShelterRed Cross shelter is located at the Jackson Rancheria Hotel.
Amador ARES is using the K6ARC repeater
K6ARC  146.835 negative offset  PL 100 9/12/2015
This map was developed for Oregon Live. the map is updated every 30 minutes. 8/24/2015
Joe, AG6QO wrote: Kenwood produces a beautiful little HT known as the TH-D72, which is a dual band 5 W transceiver, with built-in GPS and TNC. This makes it not only a nice mobile APRS unit, but a travelling packet station with the addition of a MS Windows based Venue 8 Pro tablet
He has installed puTTY, Outpost, RMS Express, and even Paclink and Thunderbird on this little 16 GB table which turns it into the ultra-portable packet station he needed for remote access to the AG6QO-1 BBS and radio mail.
Check out the AG6QO web site
http://ag6qo.com/RpiBPQnode.html#tablet
7/5/2015
The ARES Deployment and Assignment Form, helps ARES members gather and organize information they might need for deployment or activation. 6/17/2015
The latest edition (March 2015) of the Amateur Radio Emergency Service® (ARES) Manual now is online. This edition includes various Incident Command System (ICS) forms for ARES use, clarifies the role of the Radio Amateur Civil Emergency Service (RACES), contains an improved chapter on ARES training, and includes all current ARRL memoranda of understanding/agreement. 6/4/2015
The Gold County Region of The American Red Cross conducted a multi-county shelter exercise on April 16th. ARES was to support communications. The planning documents that were used by ARES for this exercise are now posted and available for
viewing
. Comments and "Lessons Learned" have also been posted. 4/12/2015
The International Amateur Radio Union (IARU) Emergency Telecommunications Guide is now available for download from the IARU website. The guide was developed to provide the IARU member-societies with materials suitable for training radio amateurs to participate in emergencies. It also was designed to provide guidance to individual Amateur Radio operators with little or no experience in handling emergency communications but desire to enhance their ability to participate in such events or to simply have a better understanding of the process. ARRL has a link to this information. 3/13/2015
Congratulations to the Sacramento Valley ARES groups!
In 2014, ECs reported
12,600 of volunteer hours
.
Thank you to the ECs who submitted their monthly reports and to all of the dedicated ARES members for their work.
2/9/2015
On Saturday, 10 Jan 2015, at 10:00 am (1800 UTC) Placer County ARES conducted an HF communications test net on the 40 meter band (frequency 7214 kHz LSB) from Sutter Roseville Medical Center (SRMC) in Roseville, CA. The total time of the test was a little over one hour. The equipment used included an Alinco DX-SR8 transceiver and an MFJ-1788 "Magnetic Loop" antenna that was being tested. 22 radio operators checked in and exchanged signal reports from northern and southern California and Nevada.
Read more information
. 1/13/2015
On January 3, 2015 at Cosumnes Fire Training Facility, John KI6ZWW and Vince KI6NHP put on a basic Radio training class for area CERT groups. There were 55 people in attendance and were represented by CERT groups from Elk Grove, Folsom, West Sacramento, Metro Fire, and Sacramento City CERT. 1/6/2015
We have started
a directory of information and links to the Mesh Networking project
that Joe AG6QO has started. There is also a link to a
Yahoo group for SacArea MeshNets
that will allow you to get in on the discussion and fun. 12/21/2014
Daily Packet Net to test paths to Nevada
The Nevada NW Packet group runs a daily packet check-in net.
Each day they poll messages each morning to test their ability to get information in and out of the area. The tests let them know their paths are open and the systems are working.
You can join in on this daily packet net by sending a packet message to a full service BBS to KJ7UK@KJ6IX.#WNV.NV.USA.NOAM to get on the list. You will receive a packet message each day that you can just respond to, and if you have traffic add it to the message.
Here are some Full Service Packet BBS in Northern California:
BBS connect call Location User Frequency
* N6RME-1 Diamond Springs, covering the greater Sacramento area 145.09
* N0ARY-1 Mt. Umunhum (south of San Jose), covering the San Francisco Bay, Monterey Bay, and Gilroy area 145.09 433.371
* W6RAY-3 (SJVBBS) Park Ridge (east of Fresno), covering the South Central Valley 145.09 441.50
* WA6EWV-1 South Lake Tahoe 145.05
* AG6QO-1 Winters covering most of the western Sacramento valley 144.370 via node berr37
If you are using packet radio, this is a great way to test your equipment.
12/14/2014
An
updated list of the primary frequencies used by ARES groups
in each county in the Sacramento Valley Section. 11/13/2014
Sacramento County and members of Yolo County ARES participated in a flood exercise on Twitchell Island. Teams of radio operators were assigned to each of the exercise sites.
The exercise went very well for all. During the hotwash, the event coordinators were impressed with Amateur Radio Operators' performance. It was noted that ARES were the first to notice and call in a second levee boil in one location.
Photos from ICP:
http://sacvalleyares.org/contents/Gallery/TwitchellIsland
Photos of the field operations from the Twitchell Island Levee exercise courtesy of Sharman Wood, Yolo County Office of Emergency Services and Eric Guenzler, KG6BZT, Sacramento County ARES.
10/22/2014
It is most important that each of your ARES members properly signup up for the Everbridge Alert system. Find out how you can get registered with Everbridge.
Sacramento, Placer and Yolo Counties Sign up page/
8/26/2014
The Department of Homeland security has released a new version of the National Interoperability Field Guide.
The NIFOG can be downloaded at:
http://publicsafetytools.info/nifog_info/nifog_info.php
An index of tools and documents is available:
http://publicsafetytools.info/start_index_v2.php
The Public Safety Library site that has links to an Adroid and Apple mobile OS apps that lets you download and manage documents.
http://publicsafetytools.info/pslib
8/1/2014
The following link has a lot of good information on how to understand what is happening on a major Cal Fire incident. 
http://scancal.org/calfire/major.html
 Be sure to follow the links contained on the page: 
Incident Command System <
http://scancal.org/calfire/ics/index.html
>
Communications on Major Fire<
http://scancal.org/calfire/ics/communications.html
>
Parts of a Major Fire <
http://scancal.org/airattack/parts.html
> , 
Strike Teams <
http://scancal.org/calfire/striketeam.html
>
7/29/2014
Slides and After Action Reports from the CAL OES Mass Care Drought and Fire Summit May 1, 2014 5/3/2014
An email from George Boswell, K7YHB, who worked the Oso Landslide as ARES a team member. He has written some "lessons learned" That we can all take to heart. 4/30/2014
A Calendar of Events has been added to the web site to allow viewing of amateur ARES and club radio events in in Sacramento Valley Section.
Are you looking for amateur radio events where you could volunteer?
Events were the coordinators are looking for extra radio operators to help out will be listed with a "+" in the event title.
If your radio group would like to add an event to the calendar go to:
Suggest an event to add
. 4/6/2014
During the Regional ARES exercise in March, the value of using packet for sending information digitally was appreciated. Although several digital programs such as
FLdigi
and
Winlink
can send form data digitally, it is cumbersome with a packet program such as
Outpost Packet Manager
.
The
Outpost Packet Manager
has been embraced by many ARES groups in the US for digital packet messaging. In a project to make it easy to send and work with form data from
FLmsg
, a form manager design to work with
FLdigi
, we have created step by step instructions to enable the use of FLmsg forms to send form data with Outpost to a PBBS or a full service BBS, and when form data is received in a message in Outpost, to recreate the original form.
Documentation for using FLmsg and Outpost
usage and well as a web based tool to create a custom Outpost Script that will work with your packet setup. 3/27/2014
A page has been added to the web site with information for reporting bugs, problems or making suggestions.
The page also displays a change log with bugs fixed and new additions to web site. You can get to this page from the "Home" button on the menu bar.
1/12/2014
Welcome to the Sacramento Valley ARES web site
This web site for Sacramento Valley ARES groups, is a place for ARES groups to share information. It is under development. As we collect material and information, more features will be come active and features added. 10/22/2013